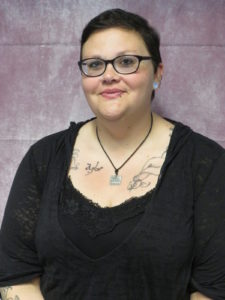 March is Developmental Disabilities Awareness Month, and it's a great time to highlight some of our advocates, who've helped spread awareness and advocated for inclusion and equity for their loved ones with developmental disabilities.
Each week this month we'll be highlighting a different Penn-Mar Advocacy Collective (PMAC) steering committee member, and why they choose to advocate.
To learn more about PMAC, please contact: tinachansweenie@penn-mar.org
---
A Q&A with Victoria . . . 
Q: Tell us a little about your career journey and your work with Penn-Mar?
A: I started at what was then Change, Inc., I have held various positions over the years. Prior to Change, I had worked for a residential provider as well as in nursing homes as a geriatric nursing assistant and a restorative nursing assistant working with physical therapy. I have a degree in sociology and psychology with coursework emphasizing underserved populations.
Q: Can you tell us about Voices of Change (Voices)?
A: The Voices of Change is a self-advocacy group that was started several years ago by individuals that attended both the vocational and the day program at Change. They wanted to learn how to better advocate for themselves and others and we partnered with various community agencies to do just that. For example, we spoke to the local transit authorities, local fire, police, and state troopers about positive interactions with people with disabilities and their rights. We have run numerous campaigns such as knowing your right to vote and voter education through partnerships with other community agencies.
Q: What has been your favorite project with Voices?
A: My favorite project that we worked on was in 2019, when we went and spoke at the crisis intervention training for the local emergency services. The individuals who wanted to go speak (as this was the second year we went) were not the most loquacious individuals. Some of these individuals struggle with proper diffusing of their anger in stressful situations. Some of these individuals are quite large in stature and when they get upset can be scary to someone who doesn't know them. We had to plan a little differently on how to help them get their message across to the local emergency responders, but in the end, their message of "I'm upset I'm not dangerous" was heard.  I was thrilled to be part of it and so proud of the work they did facing down some anxieties around speaking to strangers in a public situation where they don't have control over the environment.
Q: You joined Penn-Mar Advocacy Collective Steering Committee (PMAC), why was that important to you?
A: Advocacy has been a very large part of my life for a long time. I have advocated on many levels for many different reasons, not just the IDD community. I am a very outspoken person and speaking up for others comes naturally to me. However, I want to help others speak up for themselves. As a neurodivergent adult, single mom to two special needs kids, advocacy is in my blood. What was important to me about PMAC is that as we partner with parents, staff, and others in the community. I want to make sure that our individuals aren't left out of the conversation. No one advocates for an autistic adult like an autistic adult. I don't believe that people can't learn to communicate. Sometimes it's not verbal, sometimes it's sign language, sometimes it's with technology, sometimes it's with yes or no questions, but everyone can communicate and everyone can speak up for themselves if you just give them the opportunity.
Q: You've said in the past, "Don't tell me someone with IDD can't do something," can you talk about that sentiment?
A: I do not believe in limits around ability for anyone. People can do amazing things when someone says "OK, I don't know how we're going to do that but we'll figure it out." It might mean that we have to find someone to write computer software or find an engineer to build an adaptive device that doesn't exist on the market. It might mean that it might take years to achieve a goal, but it's still an achievement. The small achievements along the way are of no less value. I am an artist; art has played a very large part in my life as a neurodivergent. Art and creativity often are seen as hobbies and not holding high value. Art holds value not only as a form of expression but because art exercises important muscles in your body. If you can hold a pencil you can learn to make your mark and then no one can take your ability to sign your own papers away. If you can make a mark with a pencil you can learn to hold a spoon and feed yourself. The same muscles used in art are used throughout your life. I believe that the people we work with are the same way. They hold more value, more potential than we sometimes give them credit for.